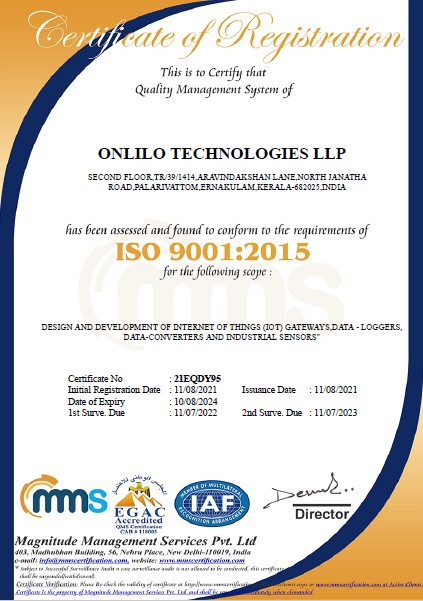 ONLILO IS NOW AN ISO 9001:2015 CERTIFIED COMPANY
Every day we are trying to work a little bit better at Onlilo. This has led to another professional milestone for our organization.
It is with immense pleasure and pride that we would like to announce that Onlilo Technologies LLP is now ISO 9001:2015 certified in Design & Manufacturing of Electronic products
The ISO 9001 standard is the world's most widely recognized quality management system (QMS) certification. With more than 1 million companies certified in over 170 countries, ISO 9001 defines requirements for companies who want to ensure that their products and services consistently meet customer requirements and to continually improve their business processes
As an ISO 9001-2015 certified company, we can ensure we are able to meet the needs of not only our existing customers but all new and future prospective customers by delivering an excellent level of customer service, implementing an effective quality management system and delivering an exceptional standard of goods and services.
Click here to verify our certificate from International Accreditation Forum (IAF) website